Select all the Profile text, copy, click the Paste option in Xpadder Profile Menu (help)
This is the first one I've made, so bear with me, It could use some tweaking[of this I am certain]. As of now, it does allow for good use for the entire game. It's a tad difficult getting used to left clicking with the right bumper, and right clicking with the left bumper, but if anyone can submit some suggestions, I'd greatly appreciate it.
Holding the left trigger shifts to set two, allowing use of skills 5-8, also switches out the use of the dpad from bag sorting to weapon sets[considering switching those].
Any and all tips are greatly appreciated.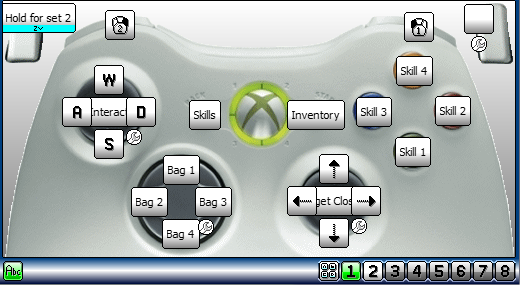 Code: Select all

;--- Xpadder Profile Data ---
Version=2010.09.24
Name=Guild Wars
Set1Button1Name=Skill 1
Set1Button1Slots=1
Set1Button2Name=Skill 2
Set1Button2Slots=2
Set1Button3Name=Skill 3
Set1Button3Slots=3
Set1Button4Name=Skill 4
Set1Button4Slots=4
Set1Button5Slots=Right Mouse Button (2)
Set1Button6Slots=Left Mouse Button (1)
Set1Button7Name=Skills
Set1Button7Slots=K
Set1Button8Name=Inventory
Set1Button8Slots=I
Set1Button9Name=Interact
Set1Button9Slots=Space
Set1Button10Name=Target Closest
Set1Button10Slots=Back-Slash[UK] (US use #)
Set1DPadUpName=Bag 1
Set1DPadUpSlots=F5
Set1DPadRightName=Bag 3
Set1DPadRightSlots=F7
Set1DPadDownName=Bag 4
Set1DPadDownSlots=F8
Set1DPadLeftName=Bag 2
Set1DPadLeftSlots=F6
Set1Stick1UpSlots=W
Set1Stick1RightSlots=D
Set1Stick1DownSlots=S
Set1Stick1LeftSlots=A
Set1Stick2UpSlots=Mouse Move Up
Set1Stick2UpMouseSpeed=64
Set1Stick2RightSlots=Mouse Move Right
Set1Stick2RightMouseSpeed=64
Set1Stick2DownSlots=Mouse Move Down
Set1Stick2DownMouseSpeed=64
Set1Stick2LeftSlots=Mouse Move Left
Set1Stick2LeftMouseSpeed=64
Set1TriggerLeftName=Hold for set 2
Set1TriggerLeftSetSelect=1
Set2Button1Name=Skill 5
Set2Button1Slots=5
Set2Button2Name=Skill 6
Set2Button2Slots=6
Set2Button3Name=Skill 7
Set2Button3Slots=7
Set2Button4Name=Skill 8
Set2Button4Slots=8
Set2Button5Slots=Right Mouse Button (2)
Set2Button6Slots=Left Mouse Button (1)
Set2Button7Name=World Map
Set2Button7Slots=M
Set2Button8Name=Quest Log
Set2Button8Slots=L
Set2Button9Name=Interact
Set2Button9Slots=Space
Set2Button10Name=Target Closest
Set2Button10Slots=Back-Slash[UK] (US use #)
Set2DPadUpName=W. Set 1
Set2DPadUpSlots=F1
Set2DPadRightName=W. Set 3
Set2DPadRightSlots=F3
Set2DPadDownName=W. Set 4
Set2DPadDownSlots=F4
Set2DPadLeftName=W. Set 2
Set2DPadLeftSlots=F2
Set2Stick1UpSlots=W
Set2Stick1RightSlots=D
Set2Stick1DownSlots=S
Set2Stick1LeftSlots=A
Set2Stick2UpSlots=Mouse Move Up
Set2Stick2UpMouseSpeed=32
Set2Stick2RightSlots=Mouse Move Right
Set2Stick2RightMouseSpeed=32
Set2Stick2DownSlots=Mouse Move Down
Set2Stick2DownMouseSpeed=32
Set2Stick2LeftSlots=Mouse Move Left
Set2Stick2LeftMouseSpeed=32
Set2TriggerLeftName=Hold for set 1
Set2TriggerLeftSetSelect=0