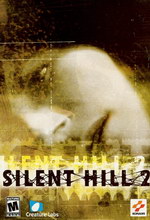 Игра/Game:
Silent Hill 2
Рекомендации/Guidance:
- Необходимо отключить стандартное управление геймпадом (оно плохое и не предназначено для комфортной игры). В настройках управления нужно нажать на кнопку (в колонке геймпад) для ее изменения и нажать Esc для того, чтобы кнопку отключить./You need to disable the standard management of a gamepad (it is bad and is not designed for a comfortable game). In management settings you should press the button (in the column gamepad) for her to change and press Esc to disable button.
- Я советую: В настройках изменить на "Тип управления-Направление"./I advise: In settings, change the "Type control-Direction".
- Приятной игры./Enjoy the game.
Английские названия кнопок/The English names of the buttons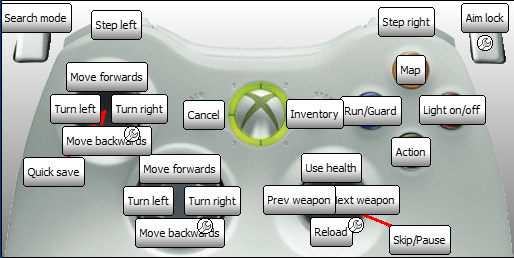 Code: Select all
;--- Xpadder Profile Data ---
DataType=Profile
Version=2012.12.31
Name=Silent hill 2 (X360)
Set1Button1Name=Action
Set1Button1Slots=Space
Set1Button2Name=Light on/off
Set1Button2Slots=L
Set1Button3Name=Run/Guard
Set1Button3Slots=Left Shift
Set1Button4Name=Map
Set1Button4Slots=M
Set1Button5Name=Step left
Set1Button5Slots=A
Set1Button6Name=Step right
Set1Button6Slots=D
Set1Button7Name=Cancel
Set1Button7Slots=Escape
Set1Button8Name=Inventory
Set1Button8Slots=I
Set1Button9Name=Quick save
Set1Button9Slots=F5
Set1Button10Name=Skip/Pause
Set1Button10Slots=P
Set1DPadUpName=Move forwards
Set1DPadUpSlots=Arrow Up
Set1DPadRightName=Turn right
Set1DPadRightSlots=Arrow Right
Set1DPadDownName=Move backwards
Set1DPadDownSlots=Arrow Down
Set1DPadLeftName=Turn left
Set1DPadLeftSlots=Arrow Left
Set1Stick1UpName=Move forwards
Set1Stick1RightName=Turn right
Set1Stick1DownName=Move backwards
Set1Stick1LeftName=Turn left
Set1Stick2UpName=Use health
Set1Stick2UpSlots=H
Set1Stick2RightName=Next weapon
Set1Stick2RightSlots=E
Set1Stick2DownName=Reload
Set1Stick2DownSlots=R
Set1Stick2LeftName=Prev weapon
Set1Stick2LeftSlots=Q
Set1TriggerLeftName=Search mode
Set1TriggerLeftSlots=S
Set1TriggerRightName=Aim lock
Set1TriggerRightSlots=F

Русские названия кнопок/Russian names of the buttons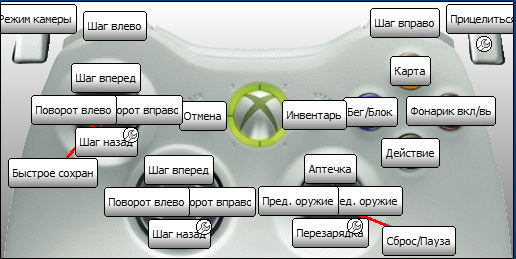 Code: Select all
;--- Xpadder Profile Data ---
DataType=Profile
Version=2012.12.31
Name=Silent hill 2 (X360)
Set1Button1Name=Действие
Set1Button1Slots=Space
Set1Button2Name=Фонарик вкл/выкл
Set1Button2Slots=L
Set1Button3Name=Бег/Блок
Set1Button3Slots=Left Shift
Set1Button4Name=Карта
Set1Button4Slots=M
Set1Button5Name=Шаг влево
Set1Button5Slots=A
Set1Button6Name=Шаг вправо
Set1Button6Slots=D
Set1Button7Name=Отмена
Set1Button7Slots=Escape
Set1Button8Name=Инвентарь
Set1Button8Slots=I
Set1Button9Name=Быстрое сохранение
Set1Button9Slots=F5
Set1Button10Name=Сброс/Пауза
Set1Button10Slots=P
Set1DPadUpName=Шаг вперед
Set1DPadUpSlots=Arrow Up
Set1DPadRightName=Поворот вправо
Set1DPadRightSlots=Arrow Right
Set1DPadDownName=Шаг назад
Set1DPadDownSlots=Arrow Down
Set1DPadLeftName=Поворот влево
Set1DPadLeftSlots=Arrow Left
Set1Stick1UpName=Шаг вперед
Set1Stick1RightName=Поворот вправо
Set1Stick1DownName=Шаг назад
Set1Stick1LeftName=Поворот влево
Set1Stick2UpName=Аптечка
Set1Stick2UpSlots=H
Set1Stick2RightName=След. оружие
Set1Stick2RightSlots=E
Set1Stick2DownName=Перезарядка
Set1Stick2DownSlots=R
Set1Stick2LeftName=Пред. оружие
Set1Stick2LeftSlots=Q
Set1TriggerLeftName=Режим камеры
Set1TriggerLeftSlots=S
Set1TriggerRightName=Прицелиться
Set1TriggerRightSlots=F